How to Attach Metal Legs to a Wood Table Top: DIY Guide
DIY furniture for home is becoming increasingly popular, especially among young people. It makes it possible to style your furniture according to your preferences.
In the past, it seemed almost impossible to make your own furniture unless you are an expert woodworker.
But, with the rise of technology and the popularity of DIY, more and more convenient products are made to realize your DIY dream.
Among the furniture, tables are likely to be the first choice thanks to the extensive use and simple operation.
However, there is one step discouraging DIY lovers like you: attach legs to the wood top.
Easy to install, mental legs are gradually replaced wood legs for DIY.
In this blog, you will learn how to attach mental legs to your wood table top. Don't let legs hold you back.
Let's begin your DIY journey.
What to consider before attaching table legs?
Before starting to design your own table, you are supposed to consider a few things.
Budget - How much would like to spend on your table? If you want to protect your wallet, keeping it simple with Signstek's table legs is a great option.
Feet protector - Is the floor easy to scratch? With a few feet protectors installed, it will be quite easy to move your table without scratching your floor.
Disadvantages of traditional mental table legs
People used to prefer wood table legs due to more design variations, while mental table legs were too simple.
Without proper footing, mental legs sometimes scratch flooring.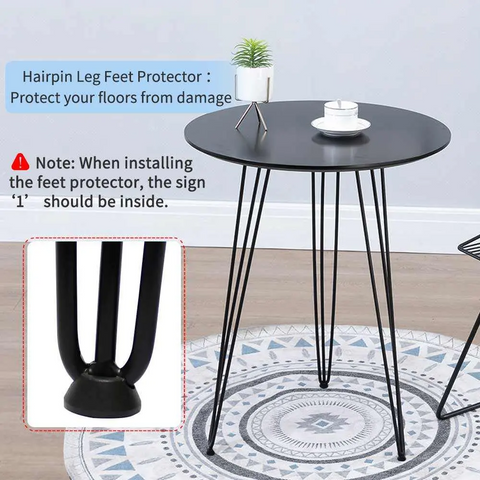 Signstek's mental table legs
Signstek has focused in the field of home improvements for eight years. Before designing our table legs, we have taken most disadvantages of traditional mental legs into consideration.
So far, Signstek mental table legs range from erective/gradient hairpin legs and square/trapezoid table legs.
In addition to the style, you can find table legs in different heights, 28'' for an eating or working table, 19'', 16'', 12'', 8'', and 6'' for a chair, coffee table and nightstand. There's always one for you.
How to attach Signstek mental legs to wood table top?
Caring every customer, Signstek has pre-drilled the mounting holes for easy and quick assembly. Besides, Signstek mental table legs come with mental screws and you don't need to buy them separately.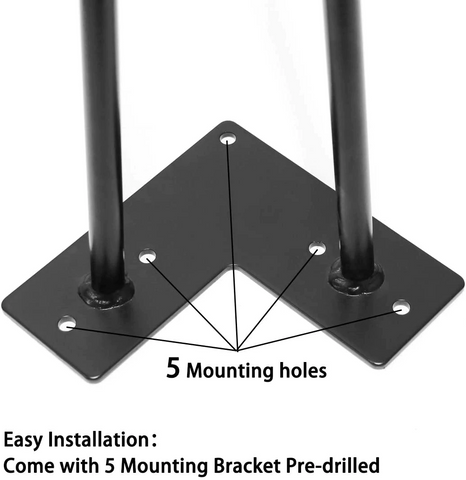 Attention: Never use wood screws to attach table legs to a table top because wood expands and contracts with the season. When it gets wet, the wood expands and dryness leads it to contract.
With pre-drilled mounting bracket, you just have to mark all the hole positions on the back of your table top and use a screwdriver to connect the mental table legs to the table top with screws.