Things You Should Know about How to Install a Barn Door
The sliding barn door has been regarded as humble farm door in the last a few decades. But in recent years, it has been transformed into a fashion design, making a twist.
Although the installation of a barn door in your room sounds foolproof, there are a few points to note. If you build your barn door without any preparation, problems may come to you: at the minimum an inconvenience, at worst safety disasters.
Decorating your home means a fresh start to your life and your family. You must have no desire to see that.
Signstek has done the research for barn door lovers and here are the main factors that count.
 Select a set of hardware of good quality
If you are considering installing a sliding barn door, you should be familiar with the hardware. It is the sliding barn door hardware that makes it possible to hang the door and slide.
One of the reasons you like the sliding barn door is to make a focal point in your home, so the hardware should look great and can easily blend into your decoration. Besides, as the most important element, it needs to hold up under the wear and tear of everyday use. It requires you to select a set of hardware of good quality, durable, runs smoothly and silently.
Where to find a perfect hardware? We suggest Signstek's barn door hardware kit.
There are two shapes for you to choose: I-shape and J-shape.
Both the two heavy duty sliding barn door hardware kits are made of high-quality materials and sophisticated forging technology, suitable for door weight up to 260 pounds.
Three protections: waterproof, fireproof and rustproof, providing a safe life for your family.
In addition to the high quality, Signstek Sliding Barn Door Kits are equipped with more free accessories. You can get all things you need at one purchase.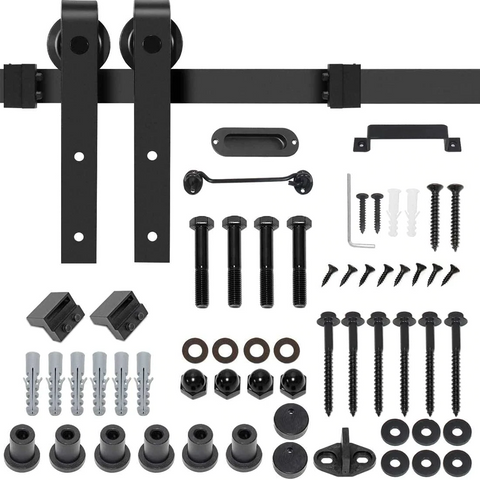 Taking up less space than the traditional swinging door is another advantage of sliding barn door. But it also needs space to slide to open.
For a single sliding door, the wall next to the doorway should be wider than your door to slide the door to completely open; if you want to build double doors, the wall space on each side must be at least the width of the door.
Choose an appropriate door
The one: The door should be wider than the doorway, covering the doorway. And leave gaps between wall and door. The track should be at least twice the width of your door.
For example, a 3 ft wide door needs a track at least 6 ft.
The other: The material, color, pattern of your door will have an impact on your style of decoration. Select your love the one that also fit your room.
Make sure your wall can support it
Since the wall has to support the whole door, your sliding barn door should be installed on the bearing wall. If not, your door will risk of falling down.
Other items needed: handle, latch
A properly designed handle not only enables you to open and close the door easily, but also increases your design effect.
If you want to build a barn door in rooms that need privacy, like bathroom or bedroom, you can add a latch with strike plate.