The Best Touchscreen Door Handle at Signstek.com
Door handles are a type of lock that is very popular around the world.
You can see it in all kinds of businesses like financial buildings and banks, and you can also turn around and see your next-door neighbor using the door handle on the front door.
With the advancement of science and technology, the latest door handles have evolved into many variations.
Such as keypad door handles, and its innovating style: touchscreen keypad door handles.
If you happen to be searching for a touchscreen keypad door handle and still haven't found a satisfactory answer, then you couldn't miss this best touchscreen door handle at Signstek – ST668 Plus.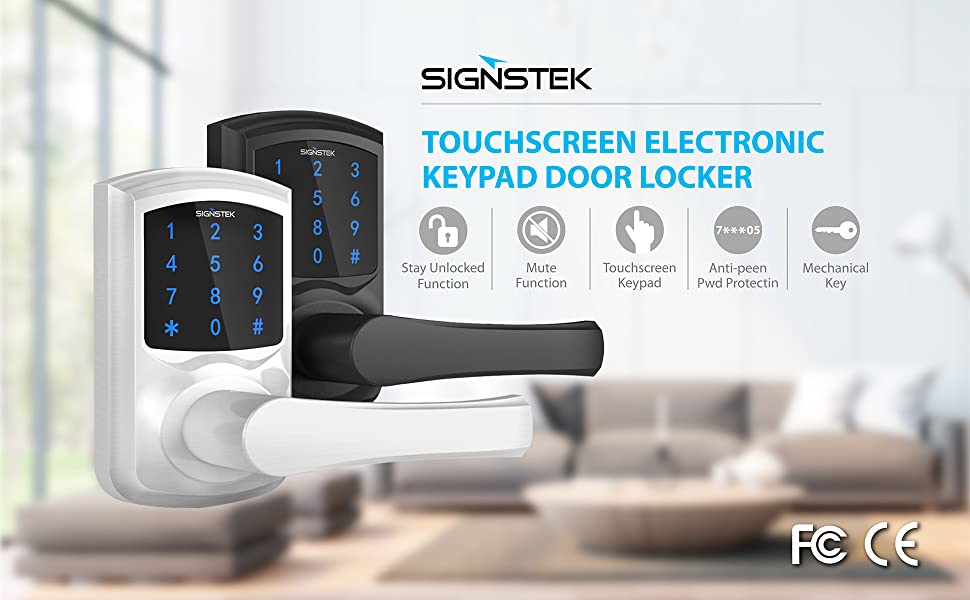 Approved by countless customers
This lock has received ★★★★★ praise from thousands of users since it came out, and we are still constantly updating. The ST-668 Plus is the current second generation lock, it is better than the previous first generation lock, more convenient, more in line with people's usage habits.
Here are some true examples of our customer reviews:
Great upgrade and easy to understand instructions – by Wh0M3 bought on February 29, 2020:
I got this for my Mother-in-law. I have a similar door lock and love it. She wanted one too so I got this one for her. The installation was very simple and easy to follow. (If you have ever swapped a door handle there isn't much of a difference). Setting up the code and additional codes was very easy as well.
Fantastic Lock – by Jane Ha on October 25, 2019:
Very well made lock, and works great so far. Use the video instruction will definitely shorten your installation time. It took me about 15-20 min after watching the video demo. Easy to program, to set master code and guess code.
Overall, Great product! Easy to install and easy to program. Highly recommended.
Helpful for my wife who has a habit of losing keys – by B. Whatley on June 8, 2020:
As of the date of this review I have had this for 1 year and 3 months (6/8). Eventually I might buy a second one for my garage door.
Functional and Tough – by Kitsch22 on July 26, 2019:
Easily installed in a standard metal door. Operation is simple.
Built strong enough to sustain severe impacts.
Optional handle position is easy to configure.
Touch buttons are easily pressed, even with larger hands like myself.
Perfect fit – by MAREK M. on December 7, 2019:
If this lock will work on my outside gate ( already installed ) at least 2 years I am going to give big 10 for this lock, is very solid made easy to installed and I did not have problem with programming as someone said ( just please read slowly but surely !!! )
Enhanced function
We have made many efforts on the security function of this touchscreen door handle.
You must be awkward to type the password when there is other people nearby. The anti-peep password function allows you to type in random digits, but can still access as long as the 1 correct password is embedded in the longer set of numbers.
And you might worry that others will copy your password by its tonal features. So we added a mute feature to this lock. Just press # to enable the function.
High-quality with lifetime support

No need to worry about the quality. The ST-668 Plus lock is solid and durable enough to be certified by FCC and CE certification. No afraid of rainy days. It has IP44 waterproof protection and is dustproof to withstand and function normally even in rainy days. So you can rest assured to use it outdoors.
If you have encounter any questions of installation or others, feel free to ask us by service@signstek.com, we are very willing to solve your problems and will reply in one day.