How To Make A Dining Table That Everyone Loves?
Our houses are the most important part of our lives. No matter if you've already moved out of your childhood home, or decided to stay with your parents in an act of filial piety, coming back to a residence that is lovingly and meticulously cared for never ceases to be a wonderful feeling. Furniture, be it stylish or homely, plays a large part in tying your home together. If you're looking for a way to breathe new life into a familiar environment, then consider getting some new furniture to spruce things up!
While it can certainly prove a challenge to purchase something that caters to everyone's tastes, that problem is easily solved with DIY. There are plenty of DIY furniture projects that can be done even for beginners, and one such project, for example, is adding hairpin legs to personalize your dining table.
Making use of hairpin legs in such a manner is just the tip of the iceberg when it comes to furniture projects. Wildly versatile, hairpin tables are well-suited for almost any kind of furniture you might have in mind. Below are some ideas using hairpin legs for your future DIY!
Adding Hairpin Legs for Your Desk
If you've ever wanted a minimalistic desk with your own personal touches, look no further than swapping out your run of the mill bulky wooden legs for a set of sleek metal hairpin table legs. You can purchase a new table top or reuse an old desktop you own. After choosing your desired table top, you can then proceed to the simple task of adding your newly purchased hairpin table legs.
Despite what it may seem, there is a wide selection of hairpin legs on the market. Though commonly found in dark, neutral colours like black or grey, they are also sold in light pastel colours such as blue or pink. The hairpin legs sold by Signstek come in black, which makes them a great choice for those who prefer an easy to match colour scheme!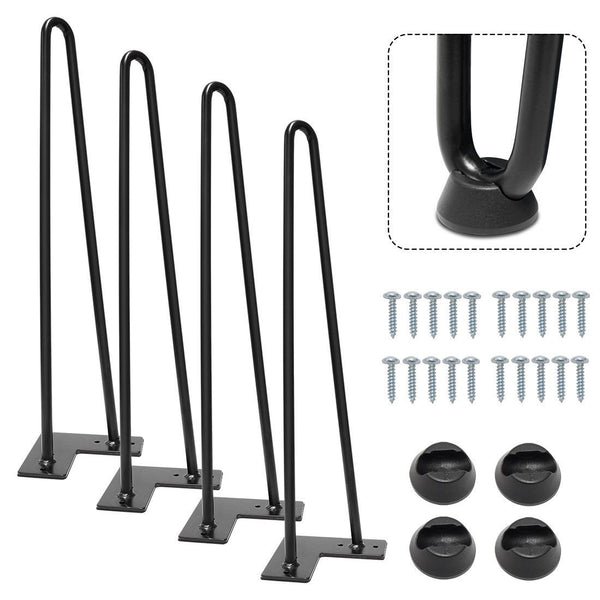 Adding Hairpin Legs to a Dining & Coffee Table
Have you ever seen a beautiful slab of wood for sale and wondered how it would look if it had been a piece of furniture in your dining hall or living room? If so, you may be overjoyed to hear that you can more than easily bring your idea to life by pairing it with a set of hairpin legs!
Hairpin legs aren't just suited for making desks or dining tables. In fact, you can even use them to make a coffee table, if you so desire! The hairpin table legs sold by Signstek, for example, come in heights of 16, 19 and 28 inches! The simple construction of hairpin legs means they can blend perfectly into any environment, making it easy for you to personalize your dining or coffee table according to your needs.
Adding Hairpin Legs to a TV Stand
TV stands take up plenty of space in the living room, and if home owners are on a tight budget, purchasing one that looks both homely and modern can be a difficult task. If that is the case, then why not consider going down the DIY path?
Considering that hairpin legs are form and function personified, it makes sense to use them for furniture that takes up a larger than normal footprint. Beginners will be happy to note that installing hairpin legs to a wooden console follows the same process as adding them to a regular table or desk, so there's no need to wrack your brains over it.
Making a Table From Scratch Using Hairpin Legs
The biggest boon of DIY is the vast array of choices available to the craftsperson. From the type of wood to the colour and shading of the grain, you are only limited by the materials you choose. If choosing a wooden table top, for example, is not what you wish for, then you can just as easily seek out a table top made from plastic or metal!
For those who think hairpin legs merely come in the usual shades of grey or black, think again. Eye-catching colours like pink or blue may not be the norm, but a quick google search turns up plenty of options! However, much as you may prefer a more colourful palette however, black hairpin legs remain the default for the reason that they produce a stylish and modern aesthetic.
Making a dining table beloved by all isn't as challenging a task should you choose to make it yourself. Signstek's hairpin table legs, for example, save you precious time with mounting brackets that come with pre-drilled holes. Simply match them and drive in the provided screws into the table top, and voila! Your dining table will be ready to go.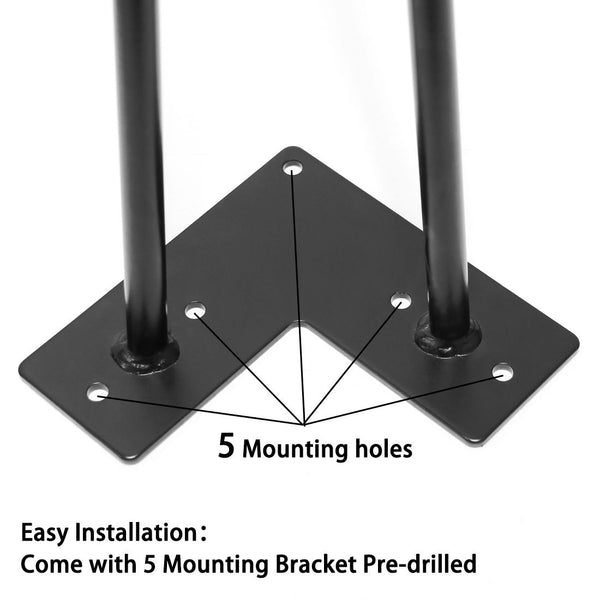 Furniture trends come and go, but hairpin legs have remained popular for more than seventy years. Requiring only steel to craft but still producing a stylish and elegant look, hairpin table legs continue to see widespread use for a reason. With Signstek, crafting your own stylish pieces of furniture has never been easier!