What is the best smart lock for home?
It depends on your needs.
There are many functions of smart door locks, but most of them are not available to you.
Some smart locks have a lot of cool features, and the price is not affordable to ordinary people, so it's a waste to buy them reluctantly.
All you have to do is figure out what you need and just pay for this feature.
If you need a safe environment for entering the password, the Signstek 668 digital door lock is for your choice.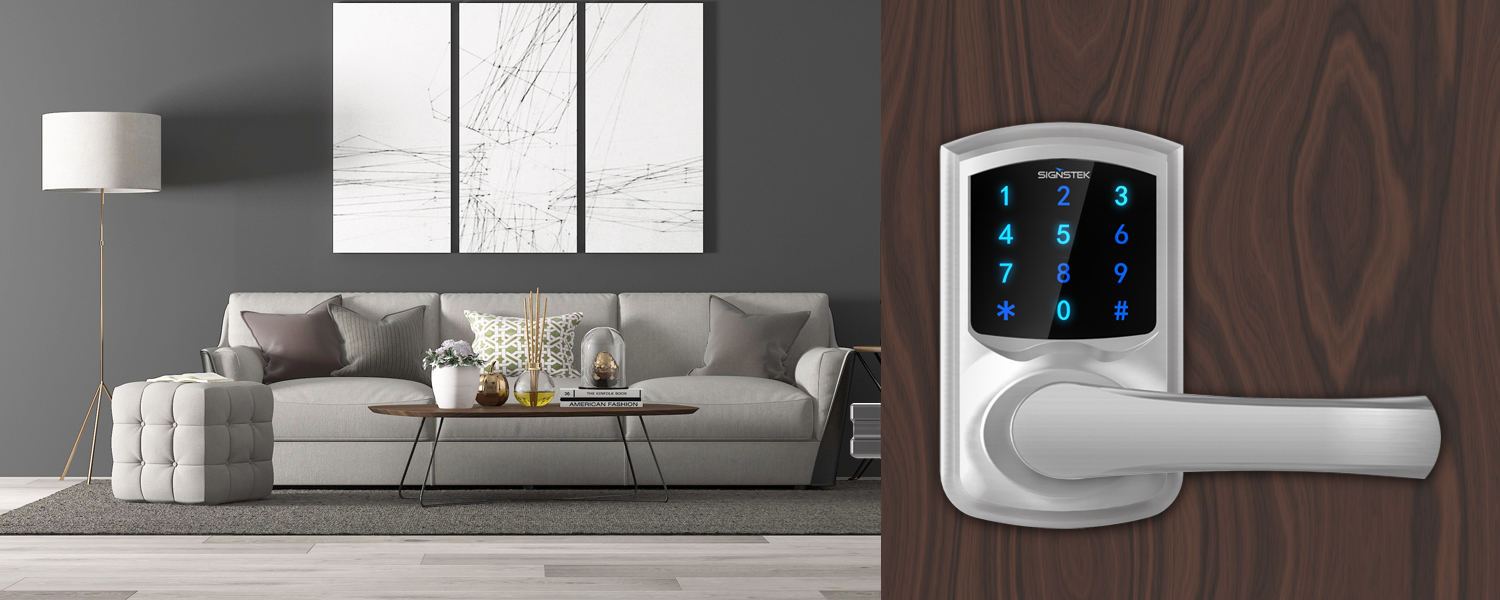 It is equipped with an anti-peed password design to meet your needs.
Let's suppose your correct password is 4 digits, then you can add other numbers before and after when enters the password. It may be 5 digits or more, as you like.
In this way, you don't have to worry about being seen by people nearby when you open the door and enter the password.
Also, if you are still worried about someone nearby guessing the password through the tone of the password voice, you can choose the Signstek PT-R0S00 electronic keypad door lock.
Its mute function of keyless entry ensures that the tone and length of your password will not be heard by strangers nearby.
Besides, with this function, when you come home late at night, you won't wake people who have fallen asleep at home because of the sound of typing your password.
If you need a convenient way to enter the door which can enter directly without entering a password, then Signstek Bluetooth door lock is the best smart lock for you.
This is an advanced, mature and intelligent home security system lock.
When your phone (App) is paired with a Bluetooth door lock and the door is closed, you can directly press the unlock button of the smart door lock to open the door without bothering to enter the password.
If you need to share a custom password with your family and friends, you can choose the Signstek PT-R0S00 electronic keypad door lock.
The user-friendly design of this lock allows you to open the door with six passwords at the same time.
Of these six passwords, your own password is the master password, and the other five are secondary passwords.
You can give your trusted family and friends the other five passwords and let them unlock freely when you are inconvenient.
If you need a timely reminder when the power is running out, the Signstek PT-R0S00 electronic keypad door lock can also satisfy you.
Nowadays, many smart locks are directly connected to the main power supply, so that once the power goes out, the smart lock will not work.
Signstek locks are powered by batteries, so don't worry about this, it can work independently.
And if the battery is dead, it will not suddenly stop working. When the battery is running out, it will remind you that it is time to replace the battery by turning on the indicator light and battery alarm.
Each person's home environment is different, and the functional requirements for the lock are also different.
The above list is only a very limited part of the requirements, if the features you need are not included, welcome to visit our product details page, or contact us, we will be happy to solve the door lock related problems for you.